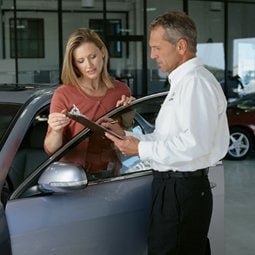 Courteous, Professional Care for You and Your Vehicle
You already know routine maintenance is the key to keeping your Ford Escape, Explorer, Edge, EcoSport or F-150 running like new for a long time. Valuable services such as oil changes and tire rotations are essential to the lifetime of your vehicle. They're also important because they help prevent your vehicle from developing larger, more complicated maintenance issues down the road. Don't trust that important service to just any garage. Trust the Ford trained and certified service center at Freedom Ford Sales..
What Auto Repair and Service Options Do We Provide at Freedom Ford in Ebensburg?
Does your car, truck, or SUV need an oil change? Have you discovered that your brakes are becoming too worn? Has your car been acting strange? Whatever the reason for your service visit, we're ready to give you the highest level of care possible. When you visit us in Ebensburg, you can get the high quality of care that you deserve so you can enjoy your drive for as long as possible. Our Ebensburg auto service and repair center provides the following services and more:

   

Air Conditioning and Heater Service

   

Cooling System and Radiator Repair

   

Oil Changes

   

Brake Repair

   

Engine Diagnostic

   

Tune-Up

   

Belts, Hoses, Fluids

   

Air Filters

   

Alternators

    B

atteries

   

Headlights

   

Starters

   

Transmission Services

   

Struts
Oil Changes in Ebensburg
When you routinely replace your oil at suggested intervals laid out either in your Ford owner's manual, or at the recommendation of an automotive expert, you're going to find that your vehicle is able to run smooth because the engine components are using clean oil and helping keep performance and efficiency up. When you don't change your oil when it's needed, performance is going to suffer, efficiency will go down, and unclean filters can lead to further engine problems down the line.
Brake Service in Ebensburg
Brake repair is also important because it is going to help your stopping power and ensure that you are able to in any kind of situation, and good brakes lead to added safety. If you'd like to learn more, feel free to reach out and we'd be happy to schedule a service appointment with you today. We're also here to discuss all our lineup of new Ford vehicles and used cars and welcome you to our Ebensburg Ford dealership any time!
Ford Service and Car Repair in Ebensburg
The experts at the Freedom Ford service center have a thorough knowledge of Ford car repair. Freedom Ford offers monthly service specials so that our customers can save big on Ford car repair in Ebensburg. Visit our Ebensburg Ford dealership today and check out our great selection of new Ford vehicles in Ebensburg, PA. You will also find a variety of quality used cars for sale in Ebensburg
Schedule Your Ford Service in Ebensburg Today
Keeping up with routine service appointments means the world to your Ford model, and our team at Freedom Ford Sales wants to ensure the longevity of your vehicle. The difference that we make for your car, truck or SUV over an independent shop is that we have the training to work on your specific model, plus we use only OEM-approved parts for the best fit for your car.